Could Colin Kaepernick be playing football in Canada in the not-too-distant future?
Nobody's holding their breath right now, except perhaps Montreal Alouettes fans who have seen their team struggle through a terrible season.
Kaepernick, of course, is the National Football League player who a little over a year ago–fed up with a series of police killings of black Americans–ignited what has now become a full-blown protest by U.S. professional football players against police brutality when he sat out the national anthem at a San Francisco Forty Niners game.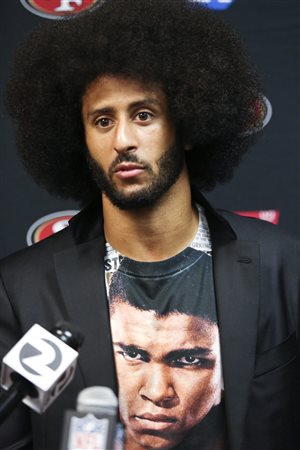 Pictures of Kaepernick on one knee on the sidelines became a staple of U.S. newspapers and this past weekend dozens of National Football League players took a knee or locked arms in sympathy and in protest of disparaging comments about their patriotism made by President Donald J. Trump last Friday in Alabama–comments that Trump continued to tweet through the weekend.
After opting out of  San Francisco contract in the off-season, Kaepernick sits in the eye of the current storm, unemployed.
There are allegations that he has been blackballed. Nothing has been proved.
Enter the Canadian Football League Montreal Alouettes.
According to Herb Zurkowsky, the Montreal Gazette's Alouettes beat writer, the team placed Kaepernick on their negotiation list about a month ago, giving them exclusive rights to sign him should he feel like abandoning his search for work in the U.S.
Zurkowsky reports that General Manager Kavis Reed made contact with Kaepernick's agent to inform him that if Kaepernick wants to play in Canada, he must start by talking with the Alouettes.
That's where the Canadian part of the story ends for now–though Kaepernick's once-lonely protest did spread to Saskatchewan last weekend when Roughriders players linked arms in solidarity with their football brothers in the U.S.
Other CFL teams are expected to do the same this weekend.
For some perspective, I spoke by phone with Zurkowsky on Wednesday.
Listen