---
Victoria, British Columbia on the west coast, is still the best city in Canada for women, and Windsor, Ontario in southern Ontario, is still the worst.
These are the findings of an annual study by Kate McInturf of the Canadian Centre for Policy Alternatives, a left-leaning think-tank.
Listen
Kate McInturf has been conducting this survey for five years now, and it has allowed her to see some interesting developments and draw some major conclusions.
More than 670,000 women working part time involuntarily
McInturf explains that "the report really is aimed at looking at not at the wealthiest
"Within a given community do men and women have equal access to the things that are there… are men and women equally likely to have a job, are they equally likely to live in poverty or not, are they equally likely to be victims of a crime?
"it's looking at how we allocate the goods that are available in our community to the people in that community"
"Maybe we need to make a little more effort to make sure that men and women are getting equal access to the things that we have."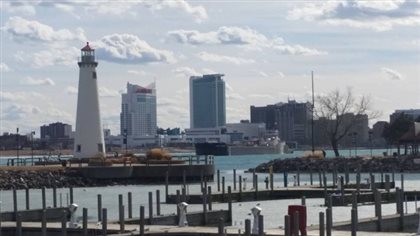 "There are great organisations working in every city that's included in this report, across Canada, and they're doing really incredibly smart creative things"
One example is the Feminist Working Hub in St. John's, Newfoundland.
It "lets self-employed women come together, share some resources, share a space, have a workplace where they can actually talk to other humans, which is really important for self-employed people."
McInturf advises leaders to listen to what women's groups have to say and propose.
"All the research is really clear that the best way to improve women's lives is to fund women's organisations." say McInturf. She says they're in the best position on the front lines of communities, to see where the challenges are, as well as what is working.
There are international examples that point the way, including the Canadian experience.
"Our own government has found that by their own evaluation, that women's funds, that is funds set up to fund women's organisations, in for example Pakistan, where we had a women's fund, and Paraguay, where we had a women's fund, were, in their own words, the single most effective mechanism for improving women's lives."
McInturf says it's now time to bring home the message.
Edmonton, the capital city of the province of Alberta, has not fared so well in former rankings, but McInturf says watching improvements that are the result of action is what's so rewarding about doing her work.
"When you draw attention to the fact that there are gaps in women's well-being in cities, obviously people care about this; they want their city to be the best place to be a woman." she says.
Edmonton, created the WAVE Initiative to support women in leadership.
McInturf says that while the cities of Edmonton and Calgary are both challenged with "significant gaps" in terms of employment and equal pay, the administrations are taking the political initiative.
She says, "that's how we're going to move forward."
In both cities, the incumbent mayors, Naheed Nenshi in Calgary, and Don Iveson in Edmonton, were voted in for another term in municipal elections yesterday.