A snowy owl is healing in a wildlife rehabilitation centre in western Canada after crashing into a sports utility vehicle on December 28th. The young male raptor was caught in the grille of the vehicle but a telephone call brought quick help from Megan Lawrence, director of the Salthaven West, a rehab centre in Regina, Saskatchewan.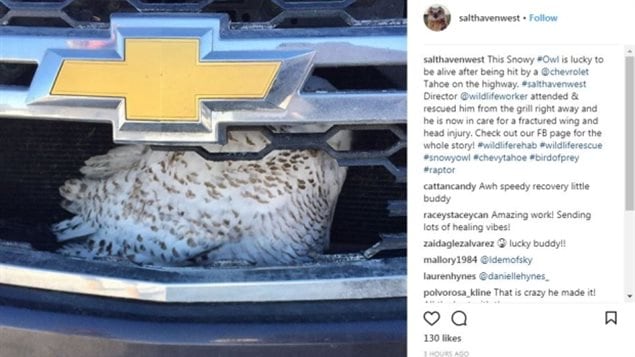 Owl is up and eating
Raptors can be aggressive, attacking with their feet but this owl was lethargic owing to a concussion and broken wing. At first the owl, named Tahoe, was laying down but Lawrence told me today that he was up, more active and more alert. She gives him pain medication using large leather gauntlets to hold him and open his beak.
She is also feeding him small bits of meat with the use of metal forceps. He is being kept quiet and covered in a small dog crate for now and will graduate to a bigger one as he improves.
Owl's ability to fly will be tested
Eventually he will be attached to a line and allowed to fly in an open field. He will not be set free until it's certain he is well enough to fend for himself.
A bird's wing usually knits in 48 hours and can fully heel in a few weeks. The concussion could take longer depending on how bad it is.
More about snowy owls
Snowy owls live in Arctic regions of Canada and Eurasia in the summer months and can range across most of the rest of Canada in winter. Unlike other owls, they are not nocturnal. They are great hunters swooping to catch prey that includes lemmings and foxes. They can see great distances and circles of feathers around their eyes reflect sound to their ears.
Their average weight is 1.6 to three kg and their wingspans average 1.3 to 1.5 metres.