A recent report on the practice of dentistry suggests that "the average dentist may be closer to the edge of a [cliff] than the average Canadian."
According to the "doom and gloom" study done by consultants R.K. House and Associates for the Ontario Dental Association (ODA), a surplus of dentists combined with declining demand will make it harder for professionals to open and maintain their practices.
"There definitely is a concern about the supply of dentists," says Dr. Benoit Soucy, a dentist specialized in prosthodontics and Director of Clinical and Scientific Affairs for the Canadian Dental Association (CDA).
"We're getting a lot of new dentists that are starting shop in Canada", he says, adding that the supply depends on how many students faculties accept and on how many immigrant dentists come to the country.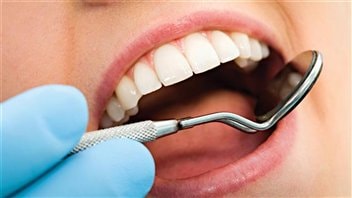 Attractive discounts to patients
In order to attract new patients, some dentists offer attractive discounts on teeth whitening, for example. But Dr. Soucy says it's better to separate long term oral health services from one-time cosmetic concerns.
"The best way to keep your oral health is to select a dentist that you get along with… and that you want to maintain a long relationship with", he says.
Dr. Soucy says older dentists have been adapting to new practices in dentistry for the past decades.
"To a great extent this is an evolution that has paralleled the technological evolution that dentists have to keep abreast of through continuing education," he says.Dentists are also changing the way their practices operate. Many now work in more visible, people-friendly clinics, with extended hours.
Dr. Soucy believes those changes are positive, "because they let people have access to dental care easier and maybe might entice people that would not have showed up to come and get the care that they badly need."
Smaller communites under-serviced
Although the data cited in the report suggests the market is tightening all over Canada, Dr. Soucy says smaller communities are actually under-serviced.
"There are definitely more dentists in larger cities that in smaller cities. It is something we're … concerned about, because it could be an impediment to access to care in some areas", he says.
The report also suggests that demand for dental care services is likely to decline, as Canadian families' real income shrinks. According to Dr. Soucy, the decline in demand might mean something more encouraging.
"It's actually good news for us, to see that the demand is going down, because it means that we must be doing something right and [we] are making sure that the Canadian public is improving its oral health", he says.
External Links:
Canadian Dental Association
Economic Report on Dentistry by R.K. House & Associates Ltd.
Dr. Benoit Soucy, Director of Clinical and Scientific Affairs for the Canadian Dental Association, talks to Gilda Salomone about some of the recent changes in dentistry in Canada.
Listen