Listen
Photo: Jae C. Hong/Associated Press
Canada is one of the few industrialized countries with a vaccination rate of only 85 per cent and that brings its UN rating on the well-being of the child down. Vaccines are readily available and often are provided free of charge by the public health system. Health services of each province provide new parents with a schedule of when and which vaccines they recommend for babies. 95 per cent is the overall rate of vaccination needed to protect a population against particular diseases and that is what Canadian health officials are aiming for.
Some parents are reluctant to give their children the recommended vaccines against 13 diseases. They fear side effects even though doctors say they are extremely rare and are dramatically outweighed by the dangers children face if they catch the diseases for not having been immunized.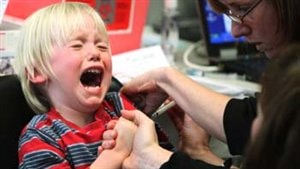 A lack of disease in Canada is another factor making it difficult to convince parents of the need for immunization. "The diseases against which we are protecting our children are no longer part of our daily lives," said Dr. Victor Goldbloom, a pediatrician and chair of the Advisory Council of the Canadian Institute of Child Health.
Polio is a good example he says. "In the first half of the twentieth century we had polio every summer; dozens and dozens and sometimes hundreds of cases. Every 15 years there was a major epidemic." He explains that there was an epidemic in 1916, 1931 and 1946. But the one expected in 1961 never happened because the polio vaccine was introduced in 1955. Now there are almost no cases of polio in Canada. Other diseases that were common have also nearly disappeared leading parents to mistakenly believe their children do not need vaccines.
Measles were almost eradicated but have made a comeback in parts of Canada since some people started to avoid immunizing their children. There was at one time suspicion that vaccines could be linked to autism but that was disproved in scientific studies. There have been outbreaks of whooping cough also known as pertussis. Some parents believe some of the diseases to be benign but complications can be serious. Measles can, can for example, cause swelling of the brain. Pertussis complications can cause seizures and brain damage.
International travel means diseases that have become rare in one country can be re-introduced by people coming from other countries and those who are not vaccinated may become infected.
Proof of immunization is required in some Canadian provinces before children are admitted to public school. Goldbloom would like that to be the case across the country. Canada needs to improve immunization rates he says and to achieve that it needs to convince parents.
"We have to do a better job of reassuring, telling parents it is safe and not only is it safe, but it protects your child from something that could be a thousand times worse."
Vaccines against 13 diseases are recommended by the Canadian government:
-diptheria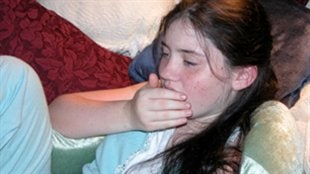 -tetanus
-pertussis (whooping cough)
-polio
-measles
-mumps
-rubella
-chickenpox
-hepatitis B
-pneumococcal disease
-meningococcal disease
-flu
-Haemophilus influcenzae type B (Hib)