This week, for show 43. Canada's National Arts Centre, the NAC, is located in the Canadian capital Ottawa.
Listen
For the past 10 years they've been organizing massive cultural events called "Scenes". This year they have invited some 250 creative talents from across Canada's vast northern areas.to come to venues around the national capital region to show their skills and talent in a huge event called Northern Scene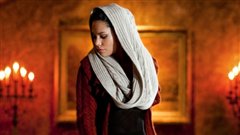 Heather Moore is the producer and executive director of the NAC's "Scenes". She says they went to great lengths to find both established and emergine talents in a variety of artistic endeavours.
There will of course be many musicians, but during the 10 day event which runs from April 24th, to May 4th, there will also be fashion shows, culinary events, carving, dancing and much much more.
She says they hope to show the traditional skills and arts of the far north, but also how its right in step with contemporary themes.
There will be over 50 events during the period with something for everyone as once again the NAC seeks to fulfill its mandate as a truly national arts centre showcasing the variety and superb quality of artists and creators from across the country.
This week, I speak with Heather Moore about "Northern Scene". I hope you enjoy the conversation and I welcome your comments. MM
(theme: Marc Montgomery)