Listen
Drugs, herbal remedies or vitamins will not stave off mental decline according to a Canadian review of medical studies. In fact, people taking some prescription drugs had a decline in cognitive function reported in some studies.
Scientists at St. Michael's Hospital in Toronto found conflicting evidence as to whether physical exercise could help, but some kinds of mental exercise have proven beneficial.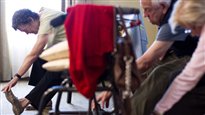 Mild cognitive impairment affects between ten and 25 per cent of people over the age of 70. They experience reduced memory, judgement, and decision-making skills.
The more serious decline of Alzheimer's disease is expected to affect double the number of Canadians over the next 25 years bringing the total to more than one million.