Lubricin is a natural lubricant produced by the body to protect tissues that rub against each other. Originally discovered in the 1970's in the knee joint, it is an extremely thin protein coating, much more akin to a coating of Teflon on a pan, than a thin coat of oil.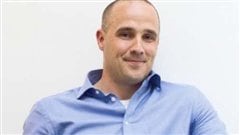 New research has discovered more widespread production of lubricin than had been realized, and that could lead to new medical products, especially for eye problems.
Dr Tannin Schmidt is Associate Professor in the Faculty of Kinesiology with a joint-appointment in the Centre for Bio-engineering Research and Education, and an associate director of the Bio-medical Engineering graduate programme at the University of Calgary
Listen
In joint research between Dr Schmidt's lab at the University of Calgary and the Harvard Medical school, it was shown that lubricin is produced in other areas of the body, notably in the eyes.
After obtaining a specially-bred medical mouse with no lubricin, ("lubricin knock-out") they were able to show that without lubricin, the simple fact of the the eyelid closing repeatedly over the lens of the eye would cause damage to the cornea.
They have also managed, in conjunction with a specialized lab, to develop a commercially viable synthetic version of lubricin, something major drug companies have tried unsuccessfully to do.
This new product would be used to help prevent problems caused by dry-eye disease, wear from contact lenses, and also from refractive surgeryThe research study was published in the April edition of JAMA Ophthalmology. Lead author Dr. David Sullivan of the Schepens Eye Institute in Boston, says the research is also encouraging "for people diagnosed with auto-immune conditions, such as Sjögren's or Steven-Johnson Syndrome, which can cause similar symptoms to develop in the eye."
Using sophisticated techniques the researchers also found the presence of lubricin mRNA (the genetic message material necessary to create lubricin) in a number of exocrine and reproductive tissues (cervical/vaginal & uterine), suggesting that lubricin could play a similar role throughout the body.
For his part, Tannin Schmidt says, "This is a new and exciting area of research for my laboratory. I'm excited to see where this discovery leads us in terms of potential new therapies.
He notes that new products such as effective eyedrops and treated contact lenses, may be available to consumers in a year or two.