Listen
Canadian astronaut Chris Hadfield, famous for using new media to transmit the thrill of space travel, is coming home. He is the first Canadian to have commanded the International Space Station and will endure the rocky ride home aboard a tiny Soyuz capsule with two other astronauts. Viewers can watch the return live on Canadian public television and on the internet.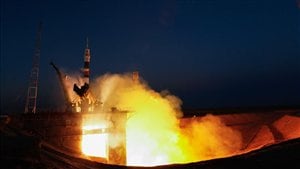 "Ride of his life"
"It is going to be the ride of his life," said Canadian astronaut Jeremy Hansen from Mission Control at the Johnson Space Center in Houston, Texas. "It's not going to be anything like the space shuttle returning. It's very violent. Everyone that's done it describes it as…more like a car crash than a landing. They really don't have words to describe it."
While the quarters are cramped, the Soyuz capsule is considered to be very safe and reliable. It will touch down in Kazakhstan 2:30 a.m. May 14th UTC. Canada's public broadcaster CBC will carry the landing live as will NASA television. Hansen said the final 30 minutes on NASA TV will include the Soyuz parachute opening and its fall to earth.
First music video from space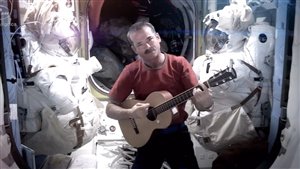 The first ever made-in-space music video was posted Sunday of Hadfield singing Bowie's "Space Oddity" while floating around the station. He has made extensive use of new media conducting live hook-ups with kids on earth to sing and holding question-and-answer sessions with students. He has tweeted extensively and sent fabulous pictures of earth which have been posted on the internet.
"Really valuable," said Hansen, commenting on Hadfield's social media activity. "I think what Chris Hadfield has provided for us is perspective… You can tell he's very sincere about the fact that he views our planet as a spaceship, Spaceship Earth. It's very important that he sees no borders and we have to take care of our spaceship and we have to take care of one another on this planet."
Equilibrium will be the main difficulty for the astronaut upon their return. After being weightless they may have trouble keeping their balance. Exercise programs and equipment in space will have helped keep them strong, but they will still have lost some muscle mass and will work to build it back up again.
Hadfield performed over 100 science experiments and will be bringing those back for analysis back on earth.
It will be at least three years before another Canadian astronaut visits the space station. Jeremy Hansen is being groomed for the job, as is David Saint-Jacques. The station will continue to operate until at least 2020.