Milos Raonic achieved a couple of firsts for tennis in Canada.  Despite the quick defeat by Rafael Nadal yesterday in Montreal, Raonic is the first Canadian to make it into the finals at the Roger's Cup, and the first to make it into the Top 10 in the ATP rankings today.
Raonic was gracious in defeat, congratulating Nadal and saying "he gave me a little bit of a clinic today'.  Milos Raonic, from Thornhill, Ontario, said in an interview earlier this year with Jian Gomeshi, the host of CBC's Q, that he credits growing up in multi-cultural Canada, with his great comfort on the tennis circuit moving from country to country.
Vasek Pospisil, also 22, is the Canadian team-mate from Vernon, British Columbia who jumped 31 spots at the Roger's Tournament to arrive at the 40th spot overall.  He lost to Milos Raonic in the semi-final on Saturday, another Canadian milestone.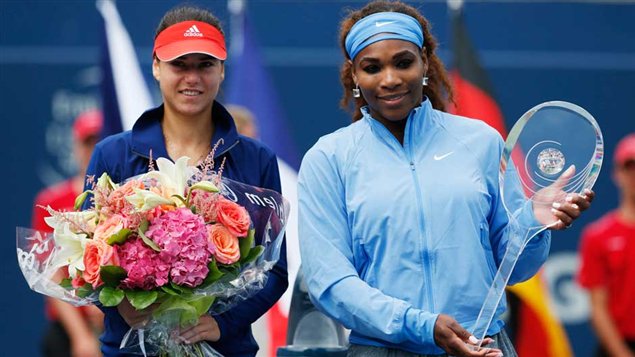 In Toronto, where the women played, Serena William's once again dominated.  She took her third Roger's Cup but without the other top-five players, Maria Sharapova, Victoria Azarenka, and a quick exit by Marion Bartoli, all due to injury, Williams's play for the title was somewhat less challenging.
In an interview with CBC Sports, Serena Williams said, "No tournament is ever easy, especially being in the position I am in," she said. "The tournament starts and they expect you to win. And the tournament is like, 'you're going to be in the final and after your semifinal I want you to do this, and you have to do this and this press.' Who knows if I'll even make it to the semifinals?  "It's a lot of pressure. It's not easy."
Tennis Canada is taking on hockey, in a cheeky little ad campaign that claims "Not every kid in Canada wants to play hockey".