Listen
Canadians throw out 134 million plastic, laundry detergent jugs every year but instead they could use a new, environmentally-friendly detergent, says the Sierra Club of Canada. A product called Dizolve is available in many countries of the world but is now gaining in popularity in Canada.
"(Entrepreneur Luc Jalbert) conceived of the idea of making a much more concentrated detergent in the form of a solid little strip that would be mess-free, light, easy, pre-dosed," said Bob McCallum, vice-president of marketing for Dizolve. "You just throw it in the washing machine with the clothes and it dissolves on contact with the water."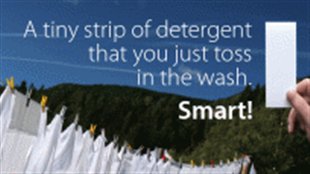 Laundry strips can be mailed
The strips are so small that enough for 144 loads of laundry fit into an envelope the dimension of a letter-sized sheet of paper and can be sent by regular mail. The advertising says it is 94% smaller and lighter than traditional laundry detergent so saves 8.2 million litres of truck fuel for shipping. That's like taking 3.2 million cars of the road for a day. Dizolve is also readily biodegradable and free of 1,4-dioxane.
Sierra Club of Canada endorses the product for these reasons and also because Dizolve has offered to share some of the proceeds of sales to its members. That's one way the company is trying to boost its sales. It has made the same kind of offer to groups trying to raise money. Churches, schools, scouts and other groups can sell the product and keep some of the proceeds.
Competing with big companies for shelf space in stores is very difficult, says McCallum. So he hopes to boost sales through this fund-raising arrangement, through word of mouth and social media.
"Big unnecessary eco-footprint"
"My personal passion around this is the eco-footprint of consumer products, the big unnecessary eco-footprint that most consumer products that we buy in grocery stores have," says McCallum. "We just consume so much detergent… In Canada it's about 3.8 billion loads of laundry get washed each year." Doing it with Dizolve would be much better for the environment, he says and Sierra Club of Canada agrees.