Listen
The Canadian Council for Refugees (CCR) has obtained a memo it says indicates Canadian officials planned to make it as difficult as possible for Tamils fleeing human rights abuses in Sri Lanka to settle in Canada. Nearly 500 people arrived on Canada's Pacific coast on the vessel, the Sun Sea, in August 2010. Previous to that, four vessels had arrived from China and another from Sri Lanka.
With regards the Sun Sea, the memo written by an official of the Canadian Border Services Agency (CBSA) says the agency is "proposing a more aggressive approach to create a deterrent for future arrivals."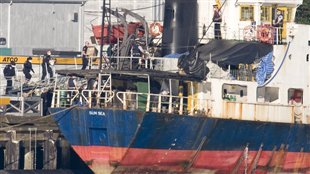 "It is expected that the CBSA will find these persons inadmissible…"– memo
Janet Dench, executive director of the CCR interprets the memo's intent. "Just before the arrival of the boat they put together a memo very clearly saying 'Do everything in your power to put them in detention. Keep them in detention as long as possible. Try everything possible to find them inadmissible. If they aren't inadmissible and get to have a refugee claim, do everything you can to try to contest their refugee claim' even though…they knew that many of the people on the boat were quite likely refugees."
The memo also recognized there were likely to be women and children on board.
One Sun Sea passenger killed?
One of the passengers on the Sun Sea returned to Sri Lanka and was recently killed. Sathyapavan "Sathi" Aseervatham had alleged in an affidavit that he was tortured on his return to Sri Lanka by authorities who knew he had been on the Sun Sea. The CCR asks whether Canadian authorities had shared the names of the Sun Sea passengers with Sri Lankan authorities and whether it also shared the information in the affidavit.
Did Canada pass on information?
"(This) raises very serious concerns about the complicity of the Canadian government with the authorities that are responsible for…most serious human rights violations in Sri Lanka," says Dench.
She points out that Canadian Prime Minister Stephen Harper recently spoke out against the human rights situation in Sri Lanka and himself noted the "absence of accountability for the serious violations of human rights and international humanitarian standards during and after the civil war is unacceptable."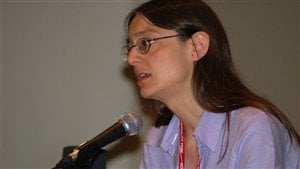 Inconsistent prime minister, charges Dench
Dench notes the inconsistency. "What we're most aware of is the contradiction between on the one hand, the prime minister recognizing the very serious human rights abuses going on there and at the same time doing everything in our powers to prevent people fleeing those abuses from getting recognized in Canada and furthermore…the Canadian government collaborating with the very authorities in Sri Lanka that are committing these serious rights abuses that the prime minister rightly condemns."
The current Canadian government has shifted its focus away from accepting refugee and family applications, says Dench, in favour of accepting economic immigrants and it emphasizes curbing abuse. She notes the number of refugees settled in Canada this year will be short of the government's own low target and will be at its lowest level in 30 years