A Canadian couple spent $25,000 to adopt a Russian child but now have given up hope after being told Russia has closed adoptions to countries that allow same-sex marriages. Sweden is the latest country affected and it appears Canada is next.
Unable to have their own children, Pam and Adam Webber were in the final stages of a year-long process of international adoption. There are not many Canadian children available for adoption so people often seek children overseas.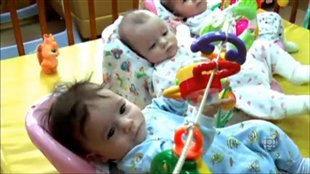 Russian adoption was supposed to be quicker
The Webbers chose Russia because they heard the process would be quicker. They prepared a toddler's room and Pam quit her job so she could fly to Russia at a moment's notice this fall.
Although there is no official word that Canadians are ineligible to adopt in Russia, the Webbers 'adoption agency has informed them their adoption plan is off .
"Heart wrenching"
"It's just heart wrenching and really hard to take," said Pam.