Canada continues to ask Sri Lanka to allow an independent investigation into atrocities committed at the end of its civil war, and that the government respect human rights and the rule of law. Canadian Prime Minister Stephen Harper boycotted a meeting of the Commonwealth countries in Sri Lanka last weekend because of concerns about human rights there.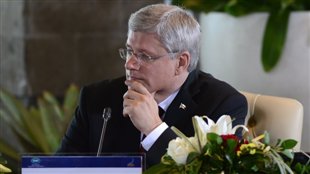 Tamil's are "fearful," says Canadian official
Sri Lanka's Tamil minority continues to be fearful of the country's leadership concluded Deepak Obhrai, Canada's parliamentary secretary to the foreign minister who attended the summit instead of Harper.  "During my visit, I took the opportunity to meet with people on the ground in Colombo and in Jaffna in the north. This experience only strengthened my conviction that Canada was absolutely right to take the principled stance that it did," said Obhrai in a news release.
Amnesty demands an inquiry
The international community must keep up the pressure on the Sri Lankan government to address its human rights crisis, says Amnesty International.
"The abuses are of two kinds," says John Argue, Amnesty International Canada's co-ordinator for Sri Lanka. "One is the abuse of not dealing with (human rights) violations that have been committed in the past by the Sri Lankan government and…by the Tamil Tigers too…
Listen
"The other and continuing problem is that even though the armed conflict in Sri Lanka ended in May 2009 there are continuing human rights violations. And so people are literally picked off the street," says Argue.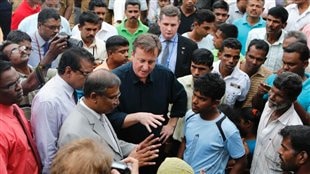 Torture, rape alleged
People are allegedly being tortured, raped and subjected to political pressure. Among those targeted are human rights activist and journalists, the latter case affecting freedom of the press. Argue also cites the case of the country's chief justice who was impeached because the government did not like a ruling of the Supreme Court.
If no "credible domestic investigations" are carried out by next March, Amnesty says there should be an international inquiry echoing calls from Navi Pillay, the UN's High Commissioner for Human Rights.