Listen
Shelter is becoming a key issue, according to the relief agency. Over one million homes were destroyed and only 10 per cent of emergency shelter needs have been covered. But Oxfam also wants to help Filipinos rebuild permanent homes that are stronger and better able to stand up to storms that it says will only increase in severity.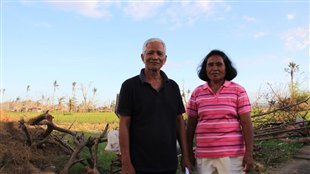 Seeds needed right now
Delivering rice seeds is a big priority since now is the time farmers need to plant. Oxfam is delivering 400 tonnes of rice seed with much difficulty as many of the roads are still impassible. Rice crops need irrigation and farmers need help in rebuilding canals, dams and sluices. Oxfam employs many local people and agencies to help in these and other efforts.
Another priority is helping fishers. Two-thirds of the fishing fleet was destroyed so the agency is helping fishers buy or rebuild boats and acquire rods, nets and other equipment so they can begin fishing again.
Coconuts a "life-source" for many families
Sowing coconut trees is another important goal. 33 million trees were uprooted. Some are being sawn into lumber for rebuilding efforts. But planting is important since so many people made a living selling their milk, meat, cream and husks. It takes seven years before a coconut tree yields fruit and Oxfam is working with Filipinos to try to find strategies to tide them over until new coconut trees have matured.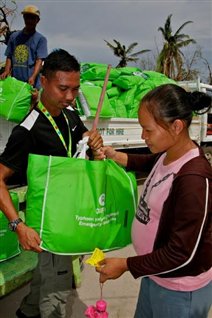 "We can't just…leave"
"We (aid agencies) can't just get in there, respond to the emergency and leave," says Fox. "This is a long-term commitment to rebuild the country. In doing that we need to be building a country that is much more resilient and resistant to disaster."