When Canada's postal service Canada Post announced Wednesday (December 11) it would stop delivering mail to homes in urban areas it emphasized two-thirds of Canadians already don't get door-to-door service, and the use of "community mailboxes" in urban areas would be phased in over the next five years to help defray costs at the crown corporation.
In its press release Wednesday, Canada Post announced "Over the next five years, the one third of Canadian households that receive their mail at their door will be converted to community mailbox delivery."
A deeper analysis of Canada Post statistics found in its Annual Report of 2012 suggests this is not the only way to interpret how mail is delivered in Canada:
Only one third of Canadians get door-to-door service?
On page 21 of the 2012 Annual Report, a Canada Post chart confirms what Canada Post has said, only one third (33%) of Canadians have mail delivered "door-to-door" – that is, the mail carrier delivers it to their mailbox at their home, or puts it through the mail slot in their home's door.
The next delivery method in the chart: "Centralized point (e.g., apt. lobby lockbox)" represents 25 per cent of mail deliveries in Canada. What's interesting here, is that Canada Post does not consider delivering a person's mail to the lobby of the apartment building they live in as "door-to-door" service.
If the two are added together, 58 per cent of Canadians effectively get door-to-door service.
Another 5 per cent of people living in rural areas receive mail in their mailbox at the end of their lane.
Another 12 per cent of businesses and people get their mail at post office boxes.
At the moment, those who get mail at "community mailboxes" represent only 25 per cent of the total.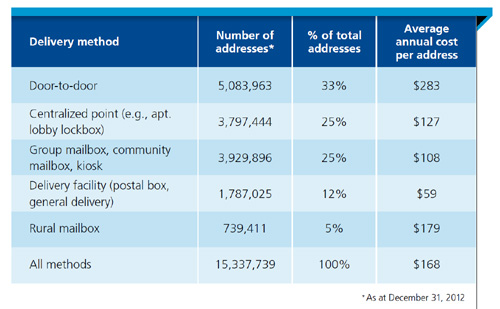 Financial losses….in one year
In its press release announcing the cuts, Canada Post says: "With the increasing use of digital communication and the historic decline of Lettermail volumes, Canada Post has begun to post significant financial losses."
But an analysis of the crown corporation's profits show that since 1995, the only year it did not make a profit was 2011, the year the corporation locked out its employees in a labour dispute.
The losses it "has begun to post" are only in the second and third quarters of this year.
Interestingly, two days before the announcement of service cuts, a Canada Post press release highlighted delivery milestones this year;
Last year, for the first time in its history, Canada Post delivered a million parcels in a single day on two occasions – December 10 and December 17. This year, the million-parcel milestone has already been reached three times – on November 12, November 25 and on Cyber Monday, December 2. Today, Canada Post will again reach that parcel-delivery milestone as it delivers more than a million parcels across the country; additional million-parcel days are expected during the holiday season.
Response to modern life – 24 hour access
In its press release, Canada Post underlines that "Community mailboxes have advantages for busy Canadians as they offer individually locked mail and small packet compartments as well as locked compartments for securely receiving parcels" and can be accessed 24 hours a day.
It's true that picking up packages or registered letters is limited to hours of a specific post office, but now, every day, millions of Canadians will have to go to their community mailbox to check to see if they have mail, rather than looking into their mailbox beside the door of their home.
Canada first G7 country to cut all urban home mail delivery
A Globe and Mail article comparing the mail services in the United States, United Kingdom, France, Germany, Italy, and Japan found Canada is the only one to decide to cut urban home delivery. And apart from Italy, all other countries deliver mail six days a week. It's five days a week in Canada.
More information:
Canada Post press release – Canada Post unveils Five-point Action Plan – here
Canada Post – 2012 Annual Report (pdf) – here
Canada Post press release – Canada Post reaching delivery milestones early – here
Canada Post – annual reports – here
Globe and Mail – Canada first G7 country to cut all urban home mail delivery – here
RCI – Canada Post to end urban home delivery of mail (audio report) – here
Update December 16, 2013:
Canadian Union of Postal Workers releases press statement "Canada Post and Conference Board Myths Debunked" addressing issues such as the supposed financial losses and clarifying mail delivery in Canada. See the details here.
Earlier in the day RCI interviewed the president of the postal workers' union, you'll find the audio here
Update December 18, 2013:
RCI – Canada Post CEO sticks to talking points testifying at Commons committee (audio) – here