On March 11, 2011,  the world witnessed the effects of a massive, deadly tsunami following a category 9 earthquake off the coast of Japan.
An international team of scientists, including Christie Rowe, has just returned from studying the Japan trench fault.
The group's preliminary findings have been published in the journal Science She is an assistant professor at McGill University in Montreal, in the central Canadian province of Quebec where she is a specialist in fault geology.  I reached her at an international scientific conference in San Francisco
Listen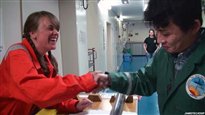 The giant tsunami that swept Japan's coastline killed some 19,000 people and displaced more than 300,000, and caused untold amounts of property damage.
It also breached the Fukushima nuclear plant causing a meltdown that has yet to be fully cleaned up. On that March day, the pressure of two tectonic plates pushing against each other was suddenly released as one plate pushed over the other in the biggest fault slip in recorded history.
It was a record movement, known as a "slip", of about 50 metres horizontally as one plate pushed over another at a 10-degree incline, which simultaneously raised the seafloor by 10 metres creating the massive pressure wave of water.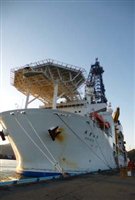 Horizontal quakes and plate movement usually doesn't create such massive tsunamis, but in this case the movement was of such distance that it displaced a massive amount of water.
The Pacific plate is trying to move almost due west and is pressured to move at a about 8-9cm a year, but it gets stuck as it is pushed underneath (subduction) the North American plate supporting northern Japan.
The pressure is built up until it is so great that it suddenly releases causing an earthquake. The international group of researchers were eager to find out why the plates were able to slide such a huge distance.
To study the fault they had to drill and send other equipment down to an enormous depth of 7 kilometres. The expedition, called the Japan Trench Fast Drilling Project, not only got drilling equipment down through the several kilometres of ocean but then drilled more than 800 metres into the seabed, installing probes and temperature sensors into the fault zone.
After analyzing the "noodles" of sediment recovered from the fault the researchers found that facilitating the record plate slip was an ancient layer of material known as smectite, a type of pelagic clay, and known to be slippery, or "greasy"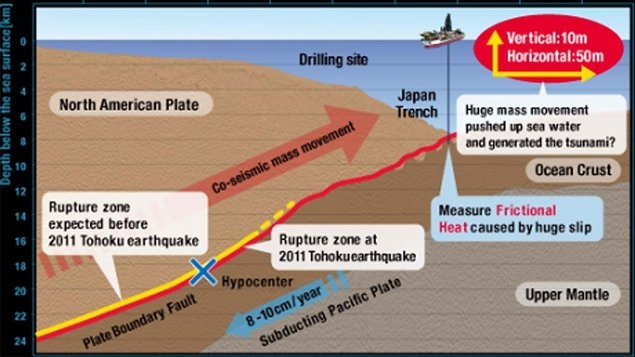 They believe the layer of prehistoric clay which is known to be slippery, acted as a lubricant enabling the plates to slide much further than would normally be the case. The research involved was ground breaking in many ways.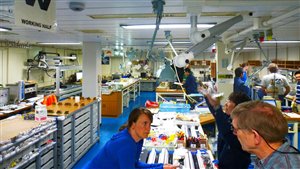 Prior to this expedition, no-one had been able to respond so quickly in scientific analysis of an undersea quake, no-one had drilled anything substantial at such an enormous depth underwater (7km), no-one had placed an observatory in a fault that deep nor retrieved a string of instruments from that deep."
Because of the extreme conditions involved in this research,  new instruments and techniques were being tested for the first time.
Christie Rowe says that while all the information still has to be fully analyzed, preliminary work shows the estimated time lines for future major quakes in the so-called "ring of fire" region in the Pacific may have to be altered as the clay is wide spread in that zone.
She also notes that this ancient slippery clay which enabled such a dramatic quake off Japan, is not present in the Cascadia fault off the west coast of Canada, which is much younger.
The expedition was supported by member countries of the Integrated Ocean Drilling Program, including Canada, which funds its membership through the Natural Sciences and Engineering Research Council (NSERC), and Canadian academic institutions and non-governmental agencies