With the Sochi, Russia, winter games almost upon us, a new research paper looks at the effect climate change and warming temperature of the planet will have on the future of the winter Olympics..and where they can be held.
The report is entitled " The Future of the Winter Olympics in a Warmer World"
Daniel Scott (PhD) is lead author of the study which involved the University of Waterloo and the Management Centre of Innsbruck, Austria. He is Canada Research Chair in Global Change and Tourism in the Department of Geography and Environmental Management, at the University of Waterloo in Ontario where he is also the Director of the Interdisciplinary Centre on Climate Change 
Listen
In their analysis, the international research team found that about every third winter games in the past century has been hit by some kind of weather anomaly.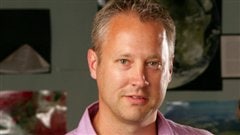 The most recent winter Olympics, in Vancouver, Canada,  saw warming weather require a massive operation to bring in truckloads of snow from elsewhere in order to stage some outdoor events.
"Fewer and fewer traditional winter sports regions will be able to host a Olympic Winter Games in a warmer world." D.Scott PhD
Scott says technology in terms of refrigerated courses, indoor events, and snowmaking technology have enabled venues to overcome warming and hold the Olympic events, but that as climate changes and temperatures warm, fewer and fewer areas around the world will be able to stage winter Olympic games.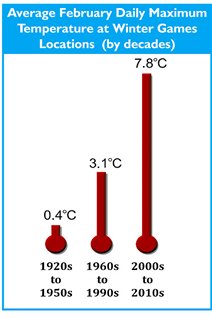 The researchers say that even their conservative models show that by the end of this century only 6 of the 19 cities which have held winter games in the past, will have the potentially reliable cold temperatures needed to stage any future event.
For example, the research shows that even with conservative modelling,  by mid century, typical winter sports areas like Garmisch-Partenkirchen in Germany,, Chamonix in France, Grenoble in Switzerland, will not have the reliable cold weather needed to stage such an event.
Sochi, Russia, which is holding the Winter Games in just a week's time, would also be too warm by 2050, and would no longer be considered by the IOC.
They point out that warming temperatures also affect summer Olympic games by being too hot, as in the Athens Olympics of August 2004.
Scott says, the summer games he says, have the option of being able to be moved to earlier or later in the year to cooler periods if needed.
However, when it comes to the winter games, he says that February is the most reliable month for cold temperatures around the northern hemisphere and that's why the winter Olympics are always staged during that month, although as the research models show, that will become increasingly more difficult.