For thousands of years it was a tiny fish, herring, not just the iconic Pacific salmon, that sustained indigenous peoples all along the North American west coast.
A new study shows the archeological record presenting a much different picture of that historic herring population throughout the region, than is the case now.
Dana Lepofsky (PhD) is a co-author of the report. She is a professor in the Department of Archeology at Simon Fraser University in British Columbia and a coordinator of the university's Herring School.  She is also with the Hakai Network for Coastal People, Ecosystems and Management.
Listen
The study involved researchers from a number of institutions both in Canada and the US, along with historical knowledge from indigenous people all along the west coast, and from dozens of archeological sites as well.
The study was published in the latest issue of the US journal Proceedings of the National Academy of the Sciences (PNAS- see link below)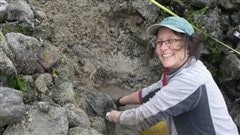 Herring exist with slight variations, in seas around the world. It's a small silvery fish roughly 25-35cm long having an oily flesh.
In recent years, the herring population along North America's west coast has been decreasing and going through rather substantial fluctuations from year to year.
The researchers found that this was not always the case, and that for thousands of years the populations were much more abundant and more widespread.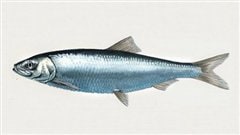 They hint that the important food source for humans and for the marine ecosystem started its decline just as an industrial-scale fishery began  a little over 100 years ago.
Professor Lepofsky points out that fishing practices have also changed in recent years to target the pregnant females for eggs which are shipped to the Asian market.
This is more detrimental to the species recovery, which is also being affected by changes in the environment as the ocean warms up, the number and types herring predators is altered in the herring's environment as is the herring's own food sources.
The researchers study points out that the current state of herring populations  and their fluctuations are not what should be considered as the norm, but that human activities have greatly modified and reduced what should be the norm, and continue to do so.
Professor Lepofsky and the other authors say the study should be seen as a valuable scientific tool to guide management policies going forward for what is an important species in the environment, and in the culture, and economy of the west coast.