A new study shows that a majority of the worlds marine parks and ecological preserves, are more window dressing than actually serving to protect vulnerable and important marine ecosystems.
Rodolphe Devillers (PhD) is lead-author of the paper. He is an associate professor in the Department of Geography at Memorial University in St John's Newfoundland and Labrador with a speciality in maritime issues including ecology.
Listen
Professor Devillers says in the international study, they found that the majority of marine preserves  were created not with protecting the ecology or sensitive marine areas, but rather were in areas where they was little to no conflict with commercial interests.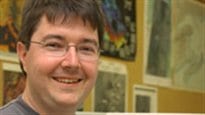 The study involved first an analysis of some 5,000 marine protection zones around the globe.  They then examined Australia's marine protected areas more closely, and further focused on what is perceived to be a success story, the protection of the Great Barrier Reef.
In all cases they examined the marine protected areas in relation to the country's oil and gas or fishing activities.  They found that in the majority of cases a protected zone was established so as not to confict with commercial interests, either established or potential.
Professor Devillers points out that even the Great Barrier Reef is not fully protected, and that most of it is open to commercial fishing.
He says that while Australia has recently implemented new protected areas, these areas again were established to avoid conflicts with commercial fishing or potential oil and gas reserves.
As for Canada's record in protected marine environments, he says while there is an international effort to protect 10 percent of marine waters, Canada is well off the mark with less than 1 percent of its waters having some protection.
He says Canada's conservation zones tend to be very small, and very localized.
Professor Devillers says for example in Newfoundland and Labrador, deep sea corals and sponges are very sensitive and vulnerable ecosystems and are being severely damaged by fishing.
He also notes that people should be aware of the different situations between actual "marine parks" and  "marine protected areas" (MPA's) allow commercial activity to proceed.  Gilbert Bay in Newfoundland is an MPA but as is the case in much of the Great Barrier Reef, commercial scallop trawling is allowed.
In another example, he notes an MPA is in the process of being set up off the coast of Newfoundland for the Laurentian Channel.  He says however, science does not strongly support the need to create an MPA there. He feels the area was selected over other more sensitive areas because it had little effect upon the fishing industry.
In Canada, he would like to see more transparency on how decisions are made such as where to create marine protection area and national parks.  He also says that as a scientist seeking information on various marine related subjects, he finds it difficult to get information from government agencies, such as the Department of Fisheries and Oceans (DFO)
online journal Aquatic Conservation abstract and full article