There's been a long held belief that snakes and lizards and other cold-blooded animals can just soak up plenty of heat, up to 15 or 20 degrees C more than the air temperature of their typical environment.
A group of scientists including lead author Jennifer Sunday of the University of British Columbia, Nick Dulvy of Simon Fraser University, also in B.C., Amanda Bates, a Canadian now at the University of Southampton, UK. and other colleagues in Britain, Australia, and the US., studied the effects on cold-blooded creatures in relation to climate change and found some worrisome results.
Nick Dulvy is the Canada Research Chair in Marine Conservation and Biodiversity at Simon Fraser University in British Columbia.
Listen
With climate change, vast areas around the globe in both hemispheres are experiencing more hot days, and hot days that are hotter on average.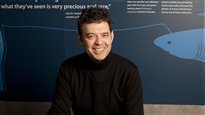 Scientists have noticed that several species of cold-blooded animals are disappearing from traditional habitats.
In their research they found that the heat effect on such creatures, snakes, lizards and so on, is actually much greater than had been realized.
The research was published in the online journal- Proceedings of the National Academy of Sciences of the USA
While we can walk around quite comfortably on a sunny day with a temperature of 25C, we wouldn't want to walk barefoot across the black road surface which can be very much hotter, or touch the paint on a dark car.
A lizard or snake is much more like those latter two things; their temperature and the conditions they face on the ground makes them much hotter, and with climate change, too often-too hot.
The research shows these animals, and certain insects, have to shelter in the shade for much of the now hotter days, greatly reducing their available hunting /feeding time on one hand, and forcing them to engage in more risky hunting on the other to make up for it and thereby exposing themselves to other predators.
Amphibians, with their wet skin, are particularly vulnerable.
Professor Dulvy points out that these creatures have evolved slowly and may not be able to adapt to climate change, or move across other climate zones to safety. As such he says, with climate change the long term survival of such creatures is compromised.
Study Abstract in the Proceedings of the National Academy of Sciences of the USA (PNAS)