Listen
As Canada gets warmer more disease-carrying ticks are spreading Lyme disease and advocates say not enough is being done to help those who are stricken.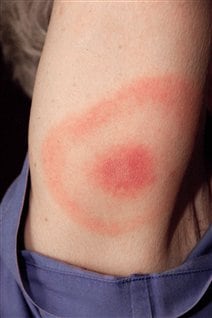 People going undiagnosed
It's not clear how many Canadians have caught Lyme disease because current testing detects only some strains and many people are going undiagnosed, says Jim Wilson president of the Canadian Lyme Disease Foundation (CanLyme), a patient advocacy group.  Better tests are available and inexpensive he says and need to be used to improve detection.
Lyme disease causes flu-like symptoms like fever, headache, fatigue, muscle and joint pain. The Public Health Service of Canada website says Lyme disease causes an expanding rash in 70-80 per cent of people. Wilson says that many patients who contact his organization never had rashes and a new study of patients in Nova Scotia shows only 18 per cent had a rash. He concludes the service needs to change its message to the public and to doctors.
Untreated disease becomes chronic
Wilson says most of those who contact his foundation are also people who did not get a diagnosis of Lyme disease and, because they did not get the antibiotics used to treat it, they developed the second stage of the disease which is more difficult to treat. So-called chronic sufferers can have debilitating neurological problems and extreme fatigue. Death occurs in rare cases.
Canada can do better, says advocate
Wilson wants the government to provide accurate information about Lyme disease to the public and health practitioners, to provide better testing and more money for research on what is happening to people with the disease. He says there has been research on ticks, mice and other animals but it is people who are suffering from the disease who can tell researchers how it is affecting them.
Radio Canada International requested an interview about Lyme disease from the Public Health Agency of Canada on Monday, April 28, but a spokeswoman said it was unable to provide anyone by Thursday afternoon.