Imagine a vehicle that can travel 1000 kilometres on the equivalent of one litre of fuel.
That's the achievement of an engineering team from the University of Alberta.
They won first place in the urban-design, hydrogen cell category at the international competition called the Shell Eco-marathon (Americas).
That particular category involves vehicles designed to look consumer friendly and powered by hydrogen fuel cells.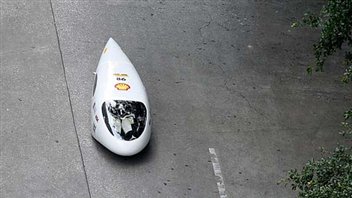 The Eco-maration Americas event pits students from North and South America in a variety of vehicle categories, all with a view towards developing technology for better energy consumption.
Canadian teams outperformed schools from two continents in several categories.
Université Laval won its category for the fifth time in six events, narrowly beating out the University of Toronto in the gasoline category- prototype.
Université de Sherbrooke took first place in the urban concept – battery electric fuel category
The event involving thousands of high school and university students in over 100 teams was held late last month in Houston Texas. Other Shell eco-marathons are held in Europe and Asia.
list of "Americas" winners and categories HERE