The mayor of Montreal, Denis Coderre expressed outrage Tuesday morning that spikes were placed in front of a building to prevent people from sitting or lying down there. The building is just east of downtown, an area that attracts many homeless people, young and old.
"Anti-homeless spikes are unacceptable," wrote the mayor in French on Twitter, guaranteeing they would be removed. And indeed, the spikes had been removed by noon.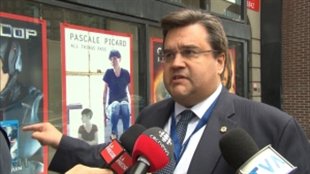 Coderre met reporters on location and said, "It's a disgrace. This is not the kind of society I want to live in."
Homeless in Canada
In the 1970s, many psychiatric institutions were closed in Canada as officials deemed it better to integrate patients into society while offering them community-based support services.  Often though, the services were inadequate to meet the needs and many patients simply ended up on the streets.
In Montreal, several non-profit shelters have opened to try to provide a place for the homeless to spend the night. During the day, they wander the streets looking for places to settle.