It seems that the old adage of island life being more laid back may also apply to wolves.
Biologists studying wolves on Canada's west coast have discovered that British Columbia's island wolves have developed genetic differences and differing behaviour from that of the mainland "timber wolf".
The Raincoast Conservation Foundation was the lead funder of the study which was published this week in the British scientific journal BMC Ecology (study link).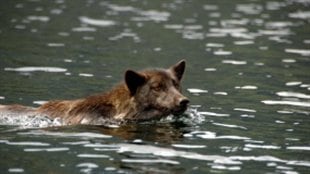 That study points to a genetic gradient from mainland, through inner islands to outer islands across a distance of a mere 30 kilometres, suggesting the difference is due to a different environment and diet leading to changes in behaviour as well.
It notes that on the mainland, the wolves have to compete for food with other predators like bears and cougars who are not kindly disposed towards them as they hunt for deer, moose, beaver etc., making them rather more apprehensive and aggressive.
Meanwhile the island wolves have become fairly mellow as their diet has developed into eating fish, which conveniently swim close to them in shallow rivers or along the shoreline, and digging for clams and mussels. Neither activity requires a vast amount of energy, nor poses much danger to them.
What is also interesting is that even though the inner islands are sometimes only a few hundred metres from the coast, there is not much inter-breeding of island and mainland wolves. Outer island and mainland wolves don't mix much at all, while the inner island wolves close to shore are somewhere in between.
Chris Darimont is a biologist at the University of Victoria in west coast British Columbia, and also with the Raincoast Conservation Foundation.
As one of the researchers in the study, he analyzed fur and faeces from the various wolves and found that the outer island wolves diet consisted almost 90% seafood (fish, clams, mussels, and barnacles), while inner island wolves close to the mainland, split their diets between seafood and meat, and mainland wolves hunt meat almost exclusively. Darimont says the reason the mainland wolves don't hunt fish, which they could easily, is likely because of the danger to them posed by bears which are common fishers.
He notes a concern that an oil spill in the region would seriously harm the marine ecosystem, and also the island wolves which depend so heavily on marine species to survive. Not only would whales and seabirds be threatened, but also the genetic diversity of the wolves should a spill occur.
The concern arises from the possibility of Kitimat BC becoming the terminus for the Northern Gateway oil pipeline. This would turn the surrounding waterways into a major oil shipping area.
A decision on the pipeline is expected this week.