In Canada's western prairie provinces, flooding from torrential rains over the weeked have resulted in dozens of states of emergency being declared.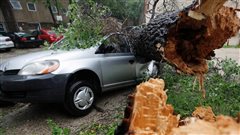 Alberta was the first province to feel the effects of the slow moving storm.  The Western Producer news site reported that in the past several days anywhere from 120 to 260 mm of rain fell on the area south of High River forcing evacuations along water courses and some other areas.
Some farmers report they now have lakes where they used to have fields of crops. However the rain is a mixed blessing in that while some crops will be lost, in other areas, the rain will provide much needed moisture to the soil and reduce irrigation needs.
About ten communities declared states of emergency
As the storm moved east however, 19 cities and towns have declared emergencies in neighbouring Saskatchewan where at least one town was under an evacuation order.
In Manitoba, states of emergency have also been declared for some 24 communities.
In some areas, the rainfall was not as severe, but high winds caused much damage and downed power lines resulting in blackouts to some areas.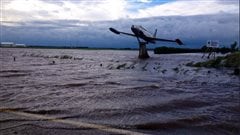 Several roads and some highways were also closed due to overland flooding which saw rainfall range from 50 to over 150mm in various places in Saskatchewan and Manitoba sometimes accompanied by strong winds up to 80km/h.
Total rainfall for June in Brandon, Manitoba, is now 240 mm, making it second-wettest month in the city since records began in 1890