The biggest challenge in fighting the outbreak of the Ebola virus is overcoming fear and resistance to treatment, says Jean-Pierre Taschereau, head of emergency operations for the International Federation of Red Cross and Red Crescent Societies (IFRC). He has just returned to Canada after leading efforts to contain the disease in Sierra Leone.
Ebola symptoms start in the same way as do those of many other diseases in Africa, so people tend to wait to get better. But with Ebola, the fever, intense weakness, muscle pain, headache and sore throat give way to nausea, diarrhea, rash, impaired liver and kidney function, and sometimes, internal and external hemorrhaging.
Listen
'We're up against tradtion'
It is the bodily fluids that spread the disease. Most at risk are people taking care of those who are infected, or who handle the bodies of those who have died.
"The need to understand that this is not your average disease and it's not going to be cured by traditional healers, but that you need to go to a western medical clinic and seek medical assistance—it goes against the usual practice. So we're up against tradition and culture and lack of understanding," says Taschereau.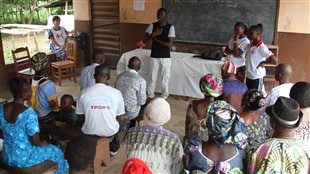 IFRC uses trusted locals to spread information
The IFRC has an advantage in this area, he says, because it uses local volunteers who are trusted in their communities and can enlist the help of local leaders to inform people. It has been using street theatre and radio plays to alert people to dangers of Ebola and what they can do about it.
Ebola cannot be cured, but if a person seeks medical help early, health workers may mitigate some of the symptoms. More importantly the ill can be put in isolation so they don't infect others. Up to 90 per cent of those who catch the virus die.
'Very minimal risk' from returning aid workers
There is concern that medical staff who have helped treat Ebola victims and then returned to western countries could spread the disease. There was an early, erroneous report that a returning Canadian doctor was in self-imposed isolation to mitigate such a risk. Reporters were later told he was just taking time off with his family.
Taschereau thinks there is "very minimal risk" that aid workers will spread Ebola. The incubation period for this virus is up to three weeks and during that time there is little chance of transmission. He says aid workers monitor their own health carefully and he is confident they would seek medical help if they developed any symptoms.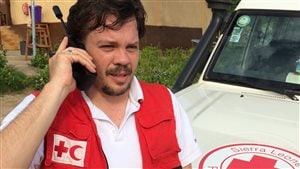 'I would not expose my family or friends'
"I know the people that I have been working with. I know that I would not expose my family or friends to this disease, and if I had any concerns that I would take the steps necessary to avoid contaminating the people I love most, and by extension everyone else."
Ebola does not spread like the flu, says Taschereau. Transmission is not through air-born particles but through direct contact with the bodily fluids of an infected person.
It's hard to tell how this outbreak will unfold, but he says he is more hopeful now that local leaders and the international community are taking steps to contain it.