Venus Williams had a great time at Montreal's Rogers Cup tennis tournament.  She did not win, that victory went to Agnieszka Radwanska, who beat Venus 6 – 4, 6 -2, but Venus is thrilled to be back in the game.
Venus beat her sister Serena in the semis, and the week-long event in Montreal has put Venus back in the top-20.  The former Wimbledon champ, also expressed her great love for the fans in stands in Montreal, and the city itself.  She says it is beginning to rival her love for most favorite city, Rome.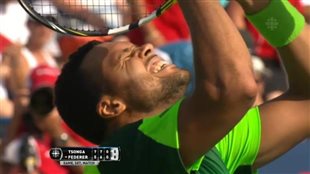 Meanwhile in Toronto, Jo-Wildfried Tsonga beat 17-time Grand Slam champion Roger Federer in straight sets, 7 – 5, 7 – 6.
Following the victory, Tsonga was lost for words. In his on-court speech he began with, "Ah …" followed by a lengthy pause, as he continuned to smile and eventually continued, "I don't know what to say," he finished with. "It's amazing to be here in front of you guys. Anyway, thank you for everything and this will stay in my mind forever."
: