It's called Operation Reassurance and is NATO's current response to the conflict in Ukraine.
In May, Canada initially sent about 50 infantry personnel from the 3rd Battalion Princess Patricia's Canadian Light Infantry (2 PPCLI) to Eastern Europe to join other NATO forces there.
They were replaced in July with 118 members of the 3rd Battalion Royal Canadian Regiment (3 RCR)
Now it appears plans are in the works to send as many as 1,000 Canadian soldiers at a time to new bases to be created in Eastern Europe.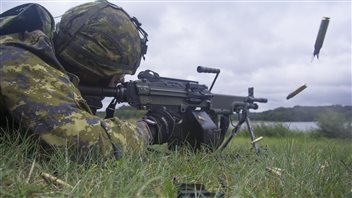 Speaking to Canadian military members last week while on Baffin Island in Canada's Arctic, Prime Minister Stephen Harper hinted that Canada could be ready to move past the economic and travel sanctions it has already imposed on roughly 200 Russian and Ukrainian businessmen, politicians and companies. He also suggested Russian President Vladimir Putin is a direct threat to eastern Europe as well as Canada's Arctic region, and that the men and women of the Canadian Forces should be "ready for anything, as they always have been."
NATO's civilian boss, Anders Fogh Rasmussen confirmed to European journalists ahead of this week's NATO summit in Wales that the alliance will open new bases in eastern Europe.
Reports say that NATO member countries will rotate personnel through the new bases on stays of several months at a time.
NATO says the new bases in Poland or Baltic states would be "temporary" thus making their creation an easier sell to opponents.
Other Canadian military assets in the region
The Canadian warship HMCS Toronto recently replaced another Canadian frigate, HMCS Regina, which was re-deployed from the Arabian Sea to the Eastern Mediterranean when the conflict in Ukraine began to erupt earlier this year.
Canada also recently sent four CF-18 aircraft (official military desination CF-188) now based in Lithuania.
The fighter jets, and about 135 support crew,  will be participating as part of NATO's Baltic Air Policing.
The BAP, which started ten years ago, is a NATO air defence Quick Reaction Alert mission that guards the airspace over Lithuania, Latvia, and Estonia.
NATO has a massive military exercise planned for next year  called Trident Juncture 2015. It will be held in Italy, Spain and Portugal over several months and built around a scenario where NATO responds to an attack against a member country.
NATO is also quietly pushing to expand the size of it's emergency reaction force of some 13,000 high readiness troops and Rasmussen wants an additional even faster crisis response force within that larger organization. Canada is not committed to be part of the emergency reaction force.