"These are frightening numbers," said David Wilson of the Miramichi Salmon Association, referring to a decline in the salmon population returning to the world-famous Miramichi River in eastern Canada. People come from around the world to fish wild salmon that return from the Atlantic Ocean to the New Brunswick river to spawn.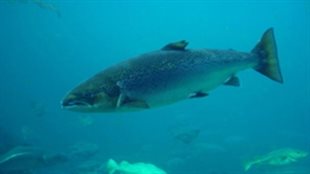 Salmon fishing worth $40 billion
It's estimated that 20 to 25 per cent of all Atlantic salmon returning to North American rivers each year return to the Miramichi River. This year the number of fish returning to that river is about 12,000. That's about half the numbers in the years between 2011 and 2013 and down sharply from yearly salmon returns in the 1990s of about 82,000.
The recreational salmon fishery is worth $40 million to the New Brunswick economy. At an annual dinner on Tuesday, various salmon groups made a public plea for the prime minister to appoint a task force to devise an action plan to deal with the salmon decline.