Across Canada many of the cenotaphs marking the fallen veterans of wars and conflict. They and other locations of significance, perhaps armouries or Royal Canadian Legion branches, or even city parks may  also be the site for military monuments.
These monuments are usually of decommissioned tanks, or other armoured vehicles, or perhaps planes on pedestals as the equipment used in those former battles.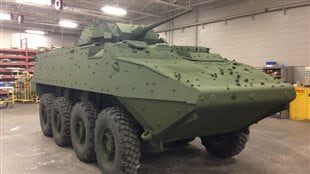 The LAV-III (Light Armoured Vehicle) built in London Ontario, was widely used by Canadians in Afghanistan, and the government has announced an upgrade programme for these vehicles.
However, some 250 hulls will be decommissioned during that process and the government will be offering the vehicles to communities as part of the LAV-III Monument Programme designed to honour and recognize the service of Canadian military personnel in that multi-year conflict.
Blake Goldring, founder of Canada Company, a not-for-profit charitable group supporting Canadian Forces personnel, which is leading the monument programme and raising funds to provide the LAV monuments to communities.
Mr. Goldring observed: "Many of the monuments in Canada are more than 70 years old and are not relevant to this generation. The LAV III Monument program gives communities throughout Canada an opportunity to recognize the sacrifices of members of the Canadian Armed Forces in a very powerful and enduring way."
Canada's military served in Afghanistan from late 2001 to late 2014, with the loss of 158 lives and some 2000 injured.