The National Oceanic and Atmospheric Administration (NOAA) has just released its "Arctic Report Card" annual update for 2014.   
It reaffirms what many previous reports and studies have stated, that the Arctic is warming at twice the rate of anywhere else on earth.
NOAA is a respected environmental scientific assessment agency of the US government's Department of Commerce.
At the annual American Geophysical Union Fall Meeting in San Francisco this week, Craig McLean, acting assistant administrator for the NOAA Office of Oceanic and Atmospheric Research, said, "Arctic warming is setting off changes that affect people and the environment in this fragile region, and has broader effects beyond the Arctic on global security, trade, and climate".
The NOAA report cited early spring snow cover across the Canadian Arctic being less than the 1981-2010 average with record low snow in Eurasia  with melting up to three weeks earlier in some areas due to low snow amount and warmer than normal temperatures.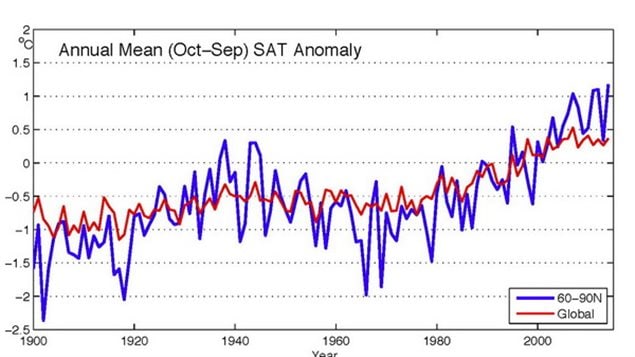 Sea ice was the sixth lowest since satellite recording began in 1979 with the eight lowest extents occurring in the last eight years.
Although sea ice age and thickness did increase slightly in 2014 over 2013, the volume of the thickest oldest ice continues to decrease making up only 10% of the ice pack compared to 26% in 1988
The report also noted the extreme fluctuation in the Arctic jet stream. Normally centered over the high Arctic, in early 2014 the centre was diffuse causing great loops of frigid air far south in some areas, with much warmer air going into the Arctic with anomalies up to 10 degrees Celsius.
The report says, "Arctic air temperatures are both an indicator and driver of regional and global changes. Although there are year-to-year and regional differences in air temperatures due to natural random variability, the magnitude and Arctic-wide character of the long-term temperature increase is a major indicator of global warming. Increases in Arctic temperatures cause, and are in turn influenced by, a set of feedbacks involving many parts of the Arctic environmental system: loss of sea ice and snow, changes in land ice and vegetation cover, permafrost thaw, black carbon (soot) in the atmosphere and on snow and ice surfaces, and atmospheric water vapor."
The report indicates that lessened ice and shorter seasons have adversely affected polar bear populations in several areas of the Arctic.
Greenland's ice sheet also experienced greater melting in 2014 than the thirty year average with the lowest reflectivity since readings began in 2000.
The report also notes the tundra is becoming greener with implications for arctic ecosystems and wildlife.
"The Arctic Report Card 2014 presents observations vital for documenting the state of the Arctic environmental system, understanding the complex interactions and feedbacks within the system, and predicting its future," said Martin Jeffries, Ph.D., principal editor of the 2014 Report Card,
NOAA began issuing it's Arctic report card in 2006
http://www.noaanews.noaa.gov/stories2014/20141217_arctic_report_card_2014.html