Befitting the month it was delivered, a frigid shower landed on the heads of the legion of baseball supporters in Montreal very much engaged in finding a way to bring Major League Baseball back to the city where it once flourished and then slowly and painfully faded to black.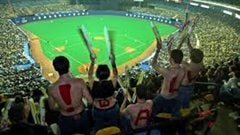 Forbes, one the world's most formidable business magazines, published a story saying that because of stadium contract obligations, the Tampa Bay Rays will be moving nowhere until 2028–at the earliest.
For the past couple of years, backers of a baseball's return to Montreal had held out hope that the Rays, who draw very poorly at their indoor Florida stadium, would finally throw in the towel and head for Montreal, the 15th largest metropolitan area in North America.
A setback but no matter say Montreal's baseball backers. The battle remains joined.
If not the Rays, members of Expos say, there are plenty of businessmen who will be unable to resist the lure of owning a MLB franchise and the elephant dollars a team can generate.
Those leading the fight point to winning conditions for baseball's return.
They point to the turnout of nearly 100,000 fans at Olympic Stadium last spring for a pair of exhibition games between the Toronto Blue Jays and the New York Mets, a turnout that they say proves the appetite for baseball is alive and well, a turnout that is certain to whet any capitalist's whistle.
They cite the uneven number of MLB teams, resulting in an unbalanced and chaotic schedule.
Then there's the evolution of MLB's business model: revenue sharing, schmatta sales, broadcast rights that push profits into the stratosphere.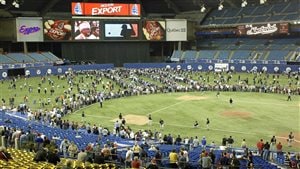 And, the backers say, they have historical precedent on their side: cities that lost Major League Baseball teams in the past inevitably got a replacement. Look, (the backers say) at Seattle, Kansas City, Milwaukee and yes, Washington, where the Montreal franchise relocated following the 2004 season. (Washington twice lost teams in the past and is currently a full-fledged member of the MLB cartel.)
The fly in the ointment remains the Mausoleum-like Olympic Stadium, where any any team would have to begin its on-field life while a new stadium is being built.
But the baseball backers point to studies that show that a return to Montreal is feasable–despite a cost usually pegged at about $1-million.
There's a palpable movement afoot here. Of course, baseball fans by nature are optimists. Talk to a Montreal baseball backer and one can't help but feel that they will find a way. It is not a group that is prepared to be denied.
Montreal talk-show host Dave Kaufman is one of those who believes baseball's return is simply a matter of time.
He spoke with RCI about the Forbes article, what it means and how he sees the future of Major League Baseball in Montreal unfolding.
Listen