Kingston Ontario has ideal ice this year
While many shun the cold of a northern winter, it does have it's advantages. For example, there are many who enjoy the chance to practice a whole new set of sports, some of them quite speedy and thrilling.
One is the long-practiced sport of ice-boating, basically sailing on the ice.
Each year the DN class world championships alternate between Europe and North America.
This year ice conditions at Kingston have been ideal and the city was chosen for the DN class international world championship regatta to be held next week starting on Sunday January 25th.
The regattas and championships are organized by the International DN Yacht Ice Racing Association (IDNYIRA) and hosted this year by the Kingston Yacht Club (KYC)
The DN class is the most popular class of competition ice boat, designed in the mid 1930's.
The single cockpit hull is 3.7m long (12ft) with a single blade at the front for steering, with a 2.4m transverse plank (8ft) for the two outboard blades. The mast is raked and carries 5.6m of sail.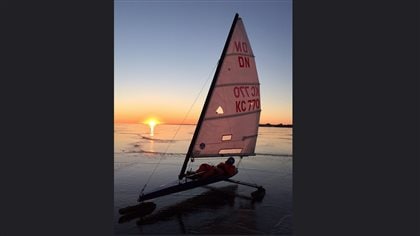 With a steady breeze of 20-25km/h and good ice, the craft can reach speeds of 80-100km/h
Registration closes tomorrow but organizers say they are expecting between 80 and 120 competitors from 10 to 15 countries for this world class international event.