Coca-Cola is going to cut the amount of syrup it puts in the Coke it sells in Canada bringing into line with the product it sells in other countries, reports the Globe and Mail. A company spokesman told the newspaper he did not know why the company had developed a sweeter product for the Canadian market.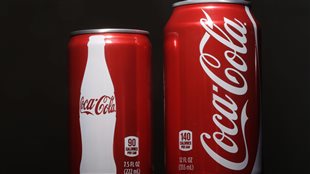 He said the decision to reduce the sweetness of Coke was in response to consumer demand for fewer calories. It appears that consumption of soft drinks is down in Canada and the United States where consumers are finally getting the public health message that they need to act to avoid becoming part of the galloping obesity epidemic.
The new Coke will have 20 fewer calories for a total of 240 calories per 591-millilitre bottle.
Coca-Cola and Pepsi are also bringing out smaller cans. While they will pack a smaller calorie punch, the drink will cost more than twice as much per millilitre.
One in four adult Canadians and one in 10 children have clinical obesity, reports the Canadian Obesity Network.