While most people go to see the world-famous Niagara Falls from a respectful and safe distance, Canadian Will Gadd became the first to climb the iced-over part of them on January 27th.
The falls which straddle the Canada-United States border have a vertical drop of more than 50 meters and the highest flow rate of any waterfall in the world.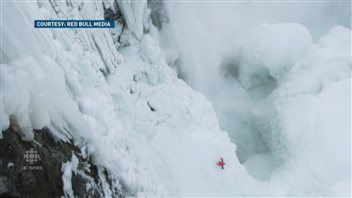 "The power of the falls is staggering," Gadd told National Geographic. "It vibrates your intestines and makes you feel very, very small. I've never experienced anything like it."
Gadd, 47, began the climb on the American side and followed a route almost exactly along the border between the two countries. He was followed shortly after by another Canadian, 34-year-old Sarah Hueniken.
Gadd is a professional climber who has scaled the glaciers of Kilimanjaro. He was named a National Geographic's adventurer for 2014/2015.