From individual acts of protest to municipalities fighting back, opposition to the end of home delivery of mail is growing slowly across Canada.
Canada Post, the federal government agency that has always delivered mail announced in December 2013 it would raise postal rates significantly in 2014 and stop all delivery of mail directly to houses by 2019.
The phasing out of so-called "door-to-door" delivery began in October 2014 when the first several thousand residents and businesses in a few communities were cut from home delivery and had to walk to neighbourhood  community mailboxes or "superboxes".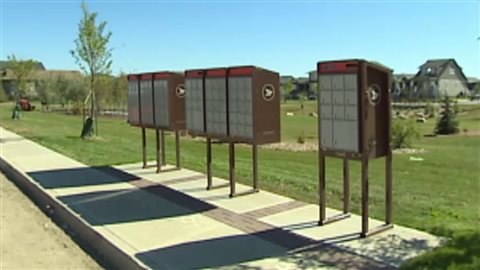 The claim is that the Crown corporation will save vast sums of money by simplifying delivery and cutting thousands of mail delivery personnel. Many dispute the savings claim, noting that Canada Post has to buy the expensive mailboxes, contract for snow clearing, maintenance, and cleanup of papers left around the boxes.
It should be noted that since the 1980's, new housing developments have had these mailboxes installed in neighbourhoods, while existing housing and businesses  have continued to benefit from delivery to their door.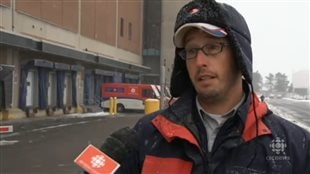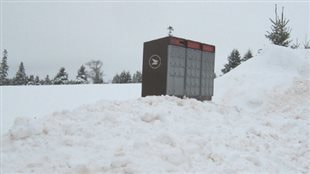 However those older established areas have been seeing the new community boxes being installed and home delivery ended, and they're not happy.
One man near Montreal has launched his own protest, first blocking the proposed installation site in front of his home with dirt, and then getting a local building permit for a driveway.  A requirement exists that any community mailbox must be three metres away from a driveway.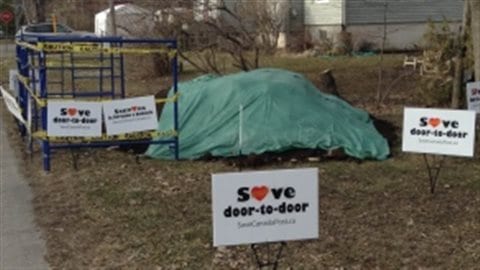 Canada Post response was to try to divide the neighbourhood by saying the man's action will only inconvenience neighbours who will have to travel further for their mail.
Meanwhile, a much more significant action has been taken by the large city of Hamilton Ontario.
This week in a special meeting, council  passed an amendment to its  Roads-Equipment Installation Bylaw saying Canada Post must pay $200 for the city to inspect any potential new mailbox location.
Canada Post's response was to say that the Canada Post Corporation Act supercedes municipal bylaws and it doesn't have to heed the bylaw.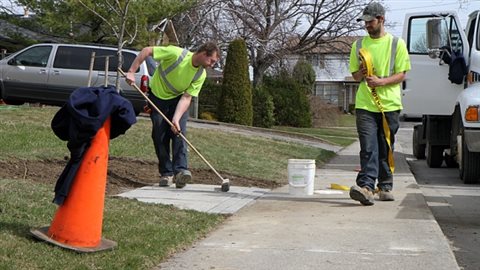 Canada Post has offered municipalities $50 per site to cover any
Municipal issues related to installation sites. In Hamilton, it told local contractors to proceed with preparing sites for the mailboxes.
The new bylaw means the city could charge the local contractor and/or Canada Post, although no charges have yet been laid. Some 1,000 boxes are planned in the initial installation phase for the city where eventually 4,000 boxes will replace all home delivery for the city.
It is not clear whether the city or Canada Post will challenge the situation in court.
Municipalities across Canada are passing resolutions and public meetings, but Hamilton is the first to pass a law of this kind, said Denis Lemelin, president of the Canadian Union of Postal Workers. (CUPW)
The postal union has been fighting the move with a legal challenge to the ending of home delivery and the jobs of as many as eight thousand postal workers.