Some Canadians are taking part in a global challenge to live on just $1.75 for each of five days to raise money and awareness about world poverty. They also solicit donations from friends and family to support their action which they contribute to poverty-fighting charities like Oxfam.
It's estimated 1.2 billion people around the world live on the equivalent of this sum. They use it to pay for food, shelter, clothing, medicine and other necessities. Those taking the challenge will only need to buy food and drink.
Listen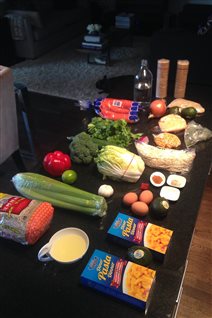 High participation in Canada
Last year almost 1,000 Canadians took part and they raised just short of $150,000. "Canada is a country that cares a lot about international development," says Dominic Mishio, director of Canada's Global Poverty Project and the Live Below The Line campaign.
"It's really a part of our social fabric and many Canadians identify with being international and global citizens in general. So Canada has a very high participation rate," he says. When compared to participants in other countries, Canadians as individuals also raise higher sums of money.
For many, hunger is ongoing
Mishio and his wife have taken the challenge themselves and have found the first few days to have been not too difficult. He thinks that because they were so well nourished to begin with the hunger was not too bad. However it did get tougher.
"You start to feel this ongoing hunger," says Mishio. "And for myself, by the end of day four you're starting to count down the hours until you're done this challenge…That really helped the idea set in that for 1.2 billion people on this planet this challenge is ongoing."