Former Guantanamo Bay prisoner Omar Khadr has been released from prison on bail, much to the disappointment of the Canadian government and to the delight of his lawyer.
A judge rejected the government's argument that releasing Khadr would cause "irreparable harm" to Canada's international treaty obligations.  A lower court had deemed him a model prisoner, as had several prison authorities along the way.
Khadr's father was a member of al-Qaeda and involved his sons in the organization's activities in Afghanistan. In 2002, Omar was 15 years old and was in a firefight that nearly killed him and did kill an American soldier. Khadr had thrown a grenade which U.S. forces blame for the death.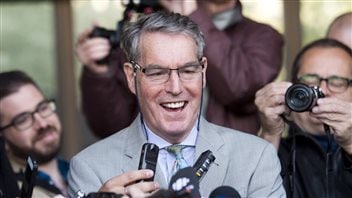 Abused in Guantanamo
Khadr was taken prisoner, treated for his injuries and sent to the notorious Bagram prison in Afghanistan and then on to Guantanamo Bay, where his lawyer says he was sleep-deprived and waterboarded. After almost a decade he made a plea bargain with a U.S. military commission. His guilty plea to five charges netted him eight years in prison, a decision he is now appealing.
While other countries asked to repatriate their nationals held in Guantanamo Bay, Canada did not in spite of pressure from his lawyer and U.S. officials.  Khadr was eventually returned to Canada to finish serving his sentence.
'It's taken too many years to get to this point'-lawyer
After securing Khadr's release on bail, Lawyer Dennis Edney praised the Canadian system of justice, saying it may take time, but eventually justice is served. When asked why Canada has persistently opposed all attempts to free from prison, Edney had harsh words for Canada's prime minister.
"Mr. Harper is a bigot. Mr. Harper doesn't like Muslims. I once said publicly to Mr. Harper, 'When you put your children to bed, ask yourself whether you would like your children to have been abused like Omar Khadr.' …It's perhaps also political. He wants to show he is tough on crime and who does he pick on? A 15-year old boy who was picked up and put in the hell-hole of Guantanamo."
Khadr will speak publicly
Edney says Khadr will come home to stay with him and his wife. He will have to wear a tracking bracelet and observe a curfew and he will face limits on contact with his Toronto family. He wants to pursue an education.
Edney promises Khadr will meet the press.  He says he wants the Canadian public to see him for who is and not the monster the government has made him out to be.
Government disappointed    
A spokesman for the minister of public safety expressed disappointment with the decision to free Khadr. "(We) regret that a convicted terrorist has been allowed back into Canadian society without having served his full sentence," said Jeremy Laurin in a statement.
See CBC's timeline of Khadr's legal odyssey.