Quebec French- English, and British Coiumbia English-Chinese
In the mainly French-speaking province of Quebec, yet another language complaint against use of English has cropped up.
This time involving a small free bi-weekly newspaper in western Quebec.
The Pontiac Journal started out as an English paper to serve the English population in the region. When the only regional French paper, Le Reveil, closed in 1980,  Journal editor Lily Ryan began publishing articles in French as well. The articles and adverts were interspersed throughout the paper.
Then the Office Quebecoise de la Langue Francaise (OQLF), the provincial government agency that verifies compliance with the provinces language law began sending letters to the paper demanding that English and French be segregated with English moved to the back of the paper. In September 2013, the OQLF- perjoratively referred to as the "language police", sent a letter saying English adverts could only be on the English pages, again at the back.
In April the OQLF sent a letter stating the Pontiac Journal is in violation of sections of the language law, but those sections 58 and exemptive clause 59, allow for some interpretation.  The letter also said that if Ryan didn't comply, the matter would be sent to Quebec's Director of Criminal Prosecutions.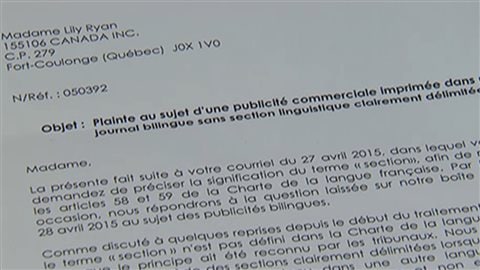 In an explanation of the situation in the Pontiac Journal- Journal du Pontiac, general-manager Lynne Lavery is quoted saying
"Pontiac is a place where languages are not a divisive factor. We have a deep respect for culture and diversity; this newspaper is at the heart of bilingualism here. No one understands why the OLF would arbitrarily create a separation in the paper that is not part of our reality."
Lily Ryan adds "It is as if the OLF wishes to erect barriers between Pontiac's French and English speakers, or wishes to remove all Francophone news reporting in Pontiac," adds Ms Ryan. "We are surprised that the new Liberal government agrees with such a retrograde and divisive position.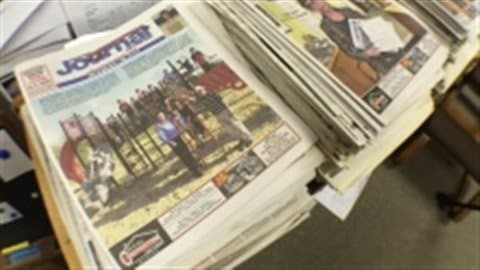 This latest in a long series of language issues in the province, which in the past has included world-wide embarrassement such as denouncing the invitation of Paul McCartney to perform at Quebec's 400th anniversary celebration because he would sing in English,
http://www.nationalpost.com/Separatists+decry+McCartney+Quebec+concert/659577/story.html
and another where an Italian restaurant was criticized for using Italian words for the meals on its menu, instead of French translations, in an affair known as "pastagate"
Meanwhile, on the other side of the country, in the Vancouver British Columbia suburb of Richmond, a simmering language issue has been put aside, at least temporarily.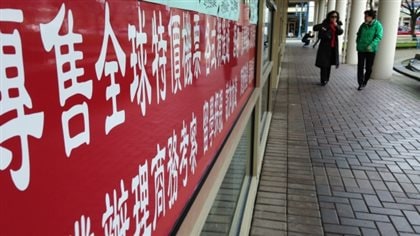 Many residents were complaining about the multitude of Chinese only business signs and had been asking local council to take action.
This week the council decided against creating a by-law requiring English on business signs. "There will be no language bylaw that's going to be invoked," said Richmond Mayor Malcolm Brodie.
Council will instead be looking into an "anti-cluttering" option that would limit the potential percentage of window space that can be used for Chinese-language signs or posters.
One resident, Kerry Starchuk.has called that, " a band-aid solution".