Canada's correctional investigator says he is concerned about the high number of deaths in federal prisons so far this year. Offenders who are sentenced to more than two years are held in these institutions.
Howard Sapers voiced the concern after he learned a 63-year old man died in his cell at a facility in the eastern province of Nova Scotia last Friday. That was the third prison death in just over three months, and the fifth in Atlantic Canada as compared to a total of seven fatalities over all of last year.
Fatalities up across Canada
All across Canada, 31 inmates have died in the first four months of the 2015-16 fiscal year, compared with 67 for all of the last fiscal year. This suggests people in federal penitentiaries are dying at an increased pace.
"We don't know whether this is an anomaly," says Sapers. "We don't know yet whether this is just a series of coincidences and will smooth out over the remaining eight months of the year or whether we're seeing the onset of a very troubling trend. So we are keeping our eye on this very closely."
Listen
Situation inside still 'a little chaotic'
The government's tough-on-crime agenda has resulted in an increased number of prisoners serving longer sentences, and that has resulted in overcrowding and sometimes the housing of two prisoners in one cell.  The environment he says is harsher, more punitive.
Although more than $650 million was spent to create 2,700 new cells, there is still some crowding. "So situations inside Canadian penitentiaries right now continue to be a little chaotic, continue to be very crowded.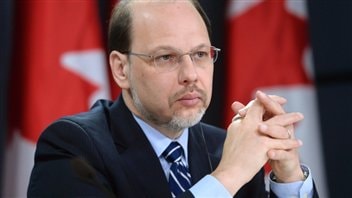 More self-injury, more assaults
"We've seen things like increases in self-injury, assaults…an increase in the use of segregation and a big increase in security interventions particularly the use of pepper spray to control the behaviour inside our penitentiaries." This he notes, is in spite of the best efforts of prison staff facing an increasingly complex situation as more people with mental health problems are incarcerated and the prison population ages, needing more health care.
Government has 'a duty of care'
Canada has a duty of care to those it imprisons, says Sapers, and the law is very clear that prisoners must get the same level of health care as they could get in the community. The investigator has raised concerns about access to and the quality of health care inside prisons, the quality of the first response to a medical emergency. He has called for better training for staff as well as better tools for them, such as automatic defibrillators.
After noting that 14 out of 30 suicides over a three year period took place in an isolation cell, Sapers raised concerns about monitoring and who is being sent into segregation. He suggested those with a chronic history of self-harm or with a diagnosis of a serious mental health issue not be segregated. And he has asked that suspension points be removed from cells so that prisoners cannot hang themselves.
Suggestions adopted, but not quickly applied
While many of his suggestions have been accepted, not all have been applied. "Many of the recommendations are…adopted right away. The problem is sustained learning, it's the sustained application of the lessons learned." As an example, he says that there are prison cells which still have suspension points.
Mental health is another issue of concern for Sapers. "We still find that the Correctional Service of Canada deals with many, many behaviours that result from mental health issues as security issues. So the interventions are not therapeutic interventions, they're security interventions.
Pepper spray not appropriate for those in medical distress
"What that means is that when somebody is behaving in a way that attracts negative attention, we'll see the intervention of an emergency response team. We'll see the use of pepper spray, restraints, placement in segregation. But clearly, the person is in medical distress and needs a much more clinical and therapeutic response…the kind they would likely receive in hospital."
Sapers say institutions that are safe for offenders are safer for staff. "Institutions that are well-run, well-managed, well-resourced, where staff are well-trained, who practice good, dynamic security procedures are institutions that have better public safety results and fewer incidents and are better work environments as well."