Photographs of a mother and teenage polar bear were shot by Maggie Putulik while she was on a camping trip in the northern territory of Nunavut, just before the older bear started toward her cabin. The two bears had been investigating meat drying on a nearby rack.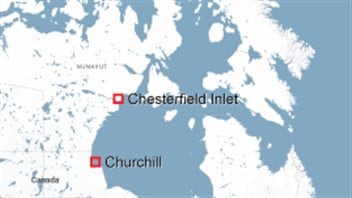 'What are we going to do?'
"I closed my blinds and started wondering: 'What are we going to do?'" said Putulik. "I had my adult children and grandchildren in the cabin. The cub was trying to get the drying meat on the racks, and the mother bear reached toward the cabin, and started pushing against it.
"Then it heard one of the babies crying, and went back to her cub. And finally, my partner Brian shot in the air with his shotgun, and they ran away and never returned."
The incident happened near Chesterfield Inlet, about 540 kilometres north of Churchill, Manitoba where outings are organized for tourists who want to see polar bears. The visitors are transported in special vehicles which protect them from the predatory animals.
Bear-proofing??
Polar bear sightings are not unusual in nearby Nunavut. In communities like Arviat and Resolute, there are regular patrols that check for polar bears before children walk to school. The government also offers compensation to people's whose cabins are damaged in spite of bear-proofing. I do not know how you bear-proof a cabin.
Eat you for lunch
Male polar bears weigh between 400 and 600kgs. Females weigh between 150 and 250kgs. They are the largest land carnivores in North America. They would happily eat you for lunch. Or for snacks. Anytime.
A polar bear can eat up to 46 kilograms of food at one sitting. So an adult would provide leftovers.