A former lawyer in Stephen Harper's Prime Minister's Office has contradicted the Conservative campaign's version events that led to a $90,000 check being paid to disgraced senator Mike Duffy in 2013.
Duffy, who Harper appointed to the Senate in 2008, is currently on trial in Ottawa, facing 31 charges in connection with his Senate office, living and travel expenses.
The $90,000 payment is at the heart of the case against Duffy, who is charged with fraud, bribery, and breach of trust.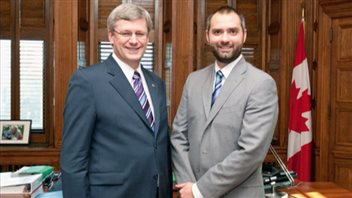 The trial has severely hampered Harper's efforts to win a fourth term as prime minister when Canada votes in a federal election on Oct. 19.
On Thursday things got no better.
Benjamin Perrin, who was a special adviser and legal counsel in the PMO during the negotiations over Duffy's expenses in February, 2013, testified that Harper's current chief of staff, Ray Novak, was told at least twice about the plan to have then-PMO chief of staff Nigel Wright write a personal check to cover Duffy's disputed expenses.
Novak has long denied knowing about the check.
Harper has consistently maintained he was not told of Wright's decision to personally repay Duffy's expenses, and repeatedly said the two individuals responsible–Duffy and Wright–are being held accountable.
Perrin was face cross examination by Duffy's lawyer on Friday.
On the hustings, questions about the trial continue to dog Harper.
The Conservative leader was asked Thursday if he still had confidence in Novak.
Harper did not mention Novak by name but said he has confidence in all of his staffers or they wouldn't be working for him.
In Vancouver, NDP leader Tom Mulcair called Mr. Harper's response "a lukewarm endorsement."
In Victoria, Liberal leader Justin Trudeau said, "Canadians no longer trust their prime minister to tell them the truth."