The Conservative Party's horror show, known to some as the Mike Duffy trial, rolls on in Ottawa.
For the past six days, Nigel Wright, Stephen Harper's former chief of staff, Nigel Wright, has been the centre of attention at the trial.
Most of his testimony centered on a $90,000 check he wrote to Senator Duffy in 2013 to cover contested expenses and who knew about it.
Prior to Tuesday, the Tory team had rejected evidence that suggested that Mr. Wright's successor at the PMO, Ray Novak, knew about the check.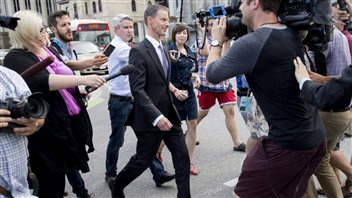 That position suffered a blow on Tuesday when Duffy's lawyer read from a February 2014 police interview with Benjamin Perrin, a former lawyer in the Prime Minister's Office.
Perrin said he was in a room a year earlier when Wright told both him and Novak that he intended to repay Duffy's questioned expenses.
A Harper spokesman, Kory Teneycke, then told reporters it was "unfathomable" that Novak would be aware of a payment from Wright to Duffy and not tell the prime minister.
Perrin will be asked to elaborate Thursday when he takes the stand.
Duffy, who Harper was appointed to the Senate in 2008, has pleaded not guilty to 31 charges in connection with his Senate office, living and travel expenses.
The trial has hampered Harper's efforts to rally support as he seeks a fourth mandate as prime minister in this year's federal election.
On Wednesday, Harper was asked to comment on Novak. He refused, sparking sharp comments from the opposition party leaders.
NDP leader Tom Mulcair said Harper, "has not been frank," adding that, "If Mr. Novak knew, Mr. Harper knew."
Liberal Leader Justin Trudeau said Harper needs to be honest with Canadians, saying "They know that Mr. Harper has not been telling the truth."
Bloc Quebecois Leader Gilles Duceppe said it is time either for Novak to quit or for Harper to fire him.
Meanwhile, the campaigning continues. After an appearance north of Toronto, Harper's was to fly to British Columbia where both Mulcair and Trudeau are on the hustings.