Senator Patrick Brazeau appears to be a step closer to regaining his seat in Canada's upper house after four criminal charges against him were dropped on Tuesday in Gatineau, Quebec.
Appearing in court in Gatineau, Quebec, Brazeau changed his plea to guilty on two charges: assaulting a former girlfriend in 2013 and simple possession of cocaine.
The prosecution dropped four others: sexual assault against the ex-girlfriend and assault against two other people in 2014, as well as uttering a death threat.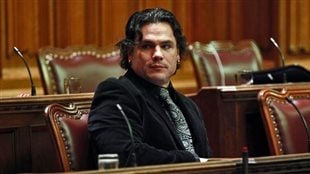 Both his defence lawyer and the Crown prosecutor suggested the judge offer Brazeau an unconditional discharge.
Should Brazeau receive an unconditional discharge, his lawyer said, "his chances are excellent" of returning to sit as a senator.
Brazeau, a former member of Stephen Harper's Conservative caucus, still faces one criminal charge of being in control of a vehicle while drunk.
He is also scheduled to stand trial in March on charges of breach of trust and fraud in connection with his Senate expenses.
The former head of the Congress of Aboriginal Peoples, Brazeau was named to the Senate by Prime Minister Harper in December 2008.
He was forced out of the Tory caucus after he was charged and was then suspended from the upper chamber in November 2013.
That suspension without pay ended when Parliament was dissolved for the Oct. 19 election.