Attention, Canadians! It's safe to come back inside.
After a summer in withdrawal, Canadians can once again get their hockey fix, every night if they so desire.
Things are back to normal. The National Hockey League season is underway. Started on Wednesday.
The NHL is, of course, the premier professional hockey league in the world. It features the best players in the world.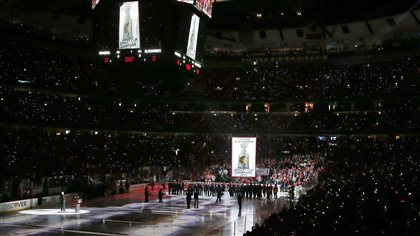 It's also a major money maker for owners, players, any media outlet you can get your hands on. Even the schmatte business. Hockey sweaters sell well.
Thirty teams in varying stages of development and ability now have set their hopes on one thing: winning the Stanley Cup.
Only one group of players will actually get there–to that place they all so much want to be: on the ice in a packed arena, sticks raised, beards full, the Cup raised above their heads, the fans going crazy.
Nothing says Canada like hockey. Or maybe it's the other way around? Whatever. Most Canadians simply can't get enough.
Bruce Dowbiggin is a Canadian journalist, author and media personality, who many believe is the best in the business when it comes to discussing hockey.
He spoke to RCI by phone from his home in Calgary.
Listen