It took $25,000 to move boulders and create a permanent wave for surfing on the Kananaskis River in western Canada, and even though it's cold, surfers are flocking to it. "Right now, it's the best wave that's working in the world, the best wave in Canada for sure," says Neil Egsgard, leader of the Surf Anywhere group that built this wave.
Called river surfing, the sport is a growing trend for surfers around the world. Surfers paddle to the wave and then get up on their boards and surf it without actually moving along the river.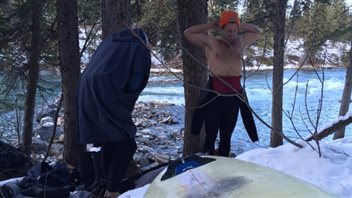 'Everything is moving so fast'
"When you're out there on the wave, everything is moving so fast. It feels like you're going a million miles a minute," says Jacob Kelly Quinlan who has surfed more than 50 rivers from Germany to Oregon, U.S.A. He says this spot near Calgary, Alberta is now a hub for the sport.
Wetsuits are a requisite these days on the Kananaskis with temperatures hovering around zero Celsius. That doesn't seem to bother Julia Barnes who runs a nearby surf-wear company.
'It's pretty magical'
She says riding a wave next to mountains capped with snow is almost too good to be true. "It's pretty magical. I don't think any real surfers, ocean surfers, can say the same, so this is quite amazing."