André Alexis has won the Giller Prize worth $100,000 for his novel called Fifteen Dogs published by Coach House Books. The novel is about canines gifted by gods with human traits. Jury members praised it as an "insightful and philosophical medication on the nature of consciousness."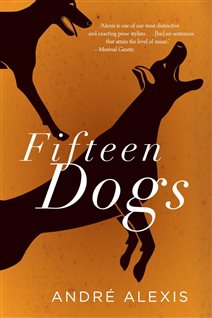 Second time nominated for a Giller
Alexis was also a finalist for the Giller Prize in 1998 for his debut novel, Childhood, but at the time lost out to renowned author Alice Munro and her work The Love of a Good Woman.
Besides taking the Giller this year, Fifteen Dogs won the Rogers Writers' Trust Fiction Prize last week, so the novel has captured two of Canada's top literary awards, the last one being the Governor-General's awards. That fiction prize was taken by Guy Vanderhaeghe and his book Daddy Lenin and other stories.
Prize was 'most unexpected'
The 58-year-old Alexis was born in Trinidad and grew up in Canada's capital, Ottawa. In his acceptance speech, he thanked his family and said the award was "most unexpected." When asked what he would do with the money, he said he would use it to pay the mortgage on his house. Several of the other finalists had previously said that if they won, they would pay down their debts.
The Giller runners-up were: