Decades of "reckless arms trading" and lax controls have fuelled the atrocities committed by the extremist group ISIS, says a report from Amnesty International. "It's been possible to accumulate weapons because for years and years there has been an absolutely irresponsible, out-of-control process of arming that region," says Alex Neve, secretary-general of Amnesty International Canada."
Listen
Weapons 'used for these horrific crimes'
"It goes back to the days of the Iran-Iraq war. It certainly includes what happened during the invasion and occupation of Iraq by U.S.-led forces and it continues now. And so many of those weapons have found their way into the hands of Islamic State forces and are now being used for these horrific crimes," says Neve.
Amnesty International has found that most of ISIS weapons and ammunition were looted from the Iraqi army.
ISIS overran Iraq in 2014 and captured the second largest city of Mosul. They took weapons that were left behind by retreating Iraqi forces. ISIS has also seized weapons from Syrian forces after taking over military bases there.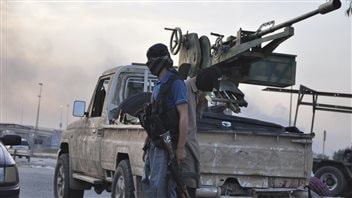 Weapons from 25 countries
The report says the "vast array of weapons" were made in at least 25 different countries including the U.S., Russia and former Soviet states. The arms flows, it says, were funded by oil barter arrangements, Pentagon contracts and NATO donations.
'Urgent steps' called for
Amnesty International says states must learn from "the successive failures of the past and take urgent steps to curb future arms proliferation in Iraq, Syria and other unstable countries and regions."
Call for an embargo
It is calling on all states to place an embargo on arms to Syria, something Canada has already done. It also wants an embargo on arms to opposition groups implicated in committing war crimes, crimes against humanity and other serious human rights abuses.
When arms are transferred, Amnesty says there must be pre- and post-delivery controls to manage their use. "It's not at all surprising that there's been this ease with which the weapons now have spilled over, have been captured, have been leaked, have been smuggled into the hands of a horrific fighting force like Islamic State," says Neve. "It's all about not having proper safeguards, rules, scrutiny in the first place."