Canadian officials are "moving heaven and earth" to bring in as many Syrian refugees as possible but may fall short of their target to relocate 10,000 refugees by the end of the year, said federal Immigration and Citizenship Minister John McCallum Wednesday.
Speaking at a press conference in Ottawa following his return from a trip to Lebanon and Jordan, McCallum said weather and human factors, such as the inability of some refugees to pack everything up with just a two-day notice are delaying the government plans to relocate 10,000 refugees by Dec. 31.
"If there's bad weather, or people wanting to delay their flight, then it's much more difficult to deal with that over a period of eight days rather than a period of 60 days," McCallum said.
Still, McCallum said the government is confident it will reach its global target of bringing 25,000 Syrian refugees by the end of February.
Immigration officials say 1,869 Syrian refugees have arrived in Canada so far. The majority of them – 1,297 are privately sponsored refugees, which means they have been sponsored either by family members in Canada or private organizations, community groups, churches and mosques. So far there are only 339 government sponsored refugees and 233 who came via a blended program.
Another plane with 298 refugees on board – most of them privately sponsored – is on its way to Montreal from Amman, Jordan, McCallum said.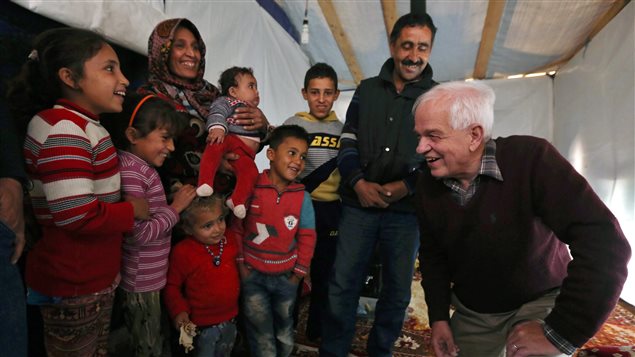 Canada is capable of processing up to five refugee flights a day – three in Toronto and two in Montreal, he said.
During the election, the Liberals pledged to bring 25,000 Syrian refugees into Canada by the end of the year, a higher number than their rivals: the left-of-centre New Democratic Party and the right-of-centre Conservative Party combined.
After assuming power in early November, the Liberals amended that promise to 25,000 by the end of February, with the first 10,000 to have landed by the end of December.
McCallum bristled at suggestions that they were breaking their promise, saying it was important not only to act fast to bring in the refugees but also to "do it right."
McCallum said he was "superimpressed" by the progress Canadian officials in Jordan and Lebanon have made in setting the infrastructure to process the refugee applications. On the medical front, Canadian officials with the help of the military are now able to process 800 medical cases a day, he said.
By the end of the year Canadian officials will certify and confirm 10,000 Syrian refugees as permanent residents of Canada, McCallum said.
McCallum also announced the government would provide an additional $15 million to agencies in 23 communities to help provide housing and supplies for arriving refugees in Canada. The federal government had already announced $3.2 million in financial help to settlement agencies in Canada.
"It's been the experience of my life," said McCallum, speaking of his interactions with refugees in Lebanon and Jordan.